Responding To The Complexities of a Leaking Terrace Above a Basement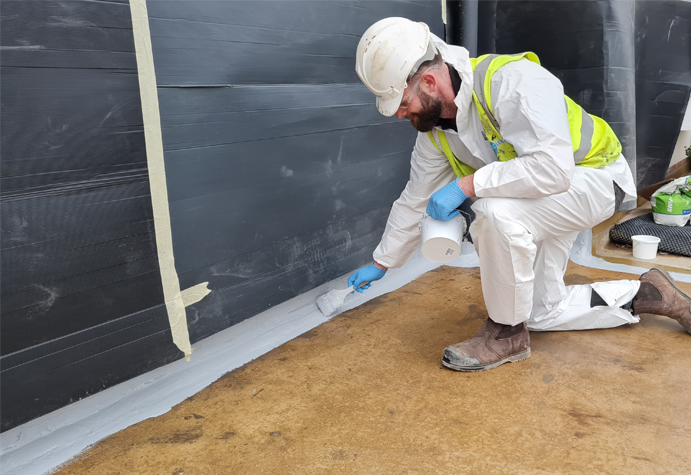 Location: Buckinghamshire
Client: MacLennan
Product(s) used: Pumacrete Waterproofing System

Pumacrete has recently been applied to the external terraced areas of a beautiful residential development in the heart of Buckinghamshire's idyllic countryside. Pumacrete, which creates an efficient, sustainable, high-performing structural waterproofing system was applied to the areas in question by leading specialist waterproofing contractor MacLennan.
Maclennan had installed structural waterproofing to the beautiful cottage ten years ago. Back then, the owners thought the terraced area, which is located directly above the basement and storage area did not require waterproofing until the terrace started leaking.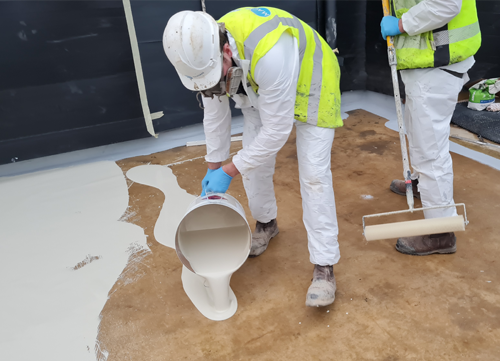 MacLennan was invited to survey the leaking area and advise on an appropriate waterproofing solution to solve the homeowner's problem. MacLennan's extensive knowledge and expertise in structural waterproofing led them to specify USL Speciality Products Pumacrete as the most suitable waterproofing system for this project.
MacLennan proposed Pumacrete to the client because of its superior contractor and client benefits and exceptional product performance characteristics compared to other similar waterproofing systems on the market. Pumacrete was accepted by the client and subsequently applied to all outdoor areas, including stairs, landings, basements, and ramped areas and successfully delivered a 100% effective waterproofing solution.
The BBA-approved system was chosen for the project thanks to its versatility in cold temperatures, durable properties, and hardwearing characteristics. Protective drainage was installed on the terrace after the Polyurethane Methyl Methacrylate (PUMA) system was installed and then tiled over.
The PUMA system is a two-part Urethane modified, pre-reacted 100% solids membrane system based on acrylic monomers used as a waterproof membrane for concrete structures and internally and externally applied to tanking below and above ground.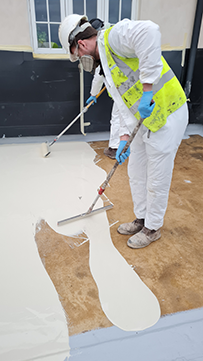 System Benefits:
Available in spray and manually applied grades to meet job site conditions.
Installs at a wide range of ambient and substrate temperatures -20 to 35 °C (-4 to 95 °F) to extend the construction season.
Rapid set time promotes fast installation, lower labour costs, and efficient handover to the next construction phase.
Weather resistant and ready for use 60 minutes after completion of application.
VOC compliant; contains no solvents.
Chemically inert; does not require hazmat precautions for disposal once cured.
Cold applied - No heating of resins or special application equipment required.
Pumacrete is only installed by authorised and approved contractors.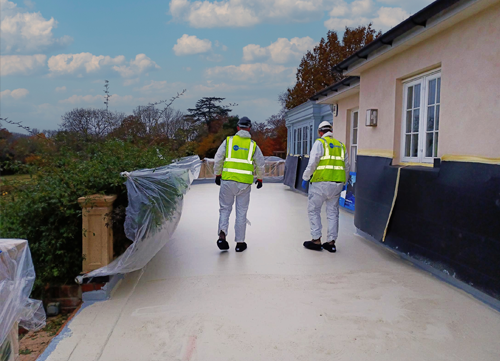 Project Summary
The work was carried out within the agreed programme and budget. MacLennan provided the client with a single point of contact for the supply and installation of Pumacrete and the customer's after-sales needs.
"We have been installing deck waterproofing for 20 years but recently converted to using USL Speciality Products Pumacrete. It has proven to be the best material we have used due to its curing properties, ease of use, and speed of application. It is very popular with our installation teams and clients."
- Ian MacLennan
For more information contact: info@matacryl.com or +44(0)191 416 8360